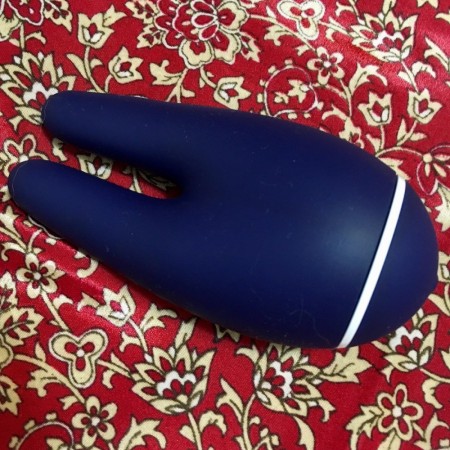 2 powerful little motors make this clit vibe twice as much fun
I'm generally skeptical about clitoral vibrators that aren't giant rumbly wands, but when Dawn Ardent insisted the Jimmyjane Intro 2 was a satisfying and versatile toy, I decided to give it a shot. A rechargeable version of this toy (the Form 2) is available but I as I was dubious it was going to get me anywhere, I cheaped out and got the battery version.
The basic specs:
The Intro 2 has 2 fairly powerful motors, one in each 'ear' (or pincer, as I tend to think of them) of the toy. It runs on 2 AAA batteries. It has a one-button control that cycles through 9 options - 3 steady, 3 variable stuttering, 3 pulsing. Press and hold the button to turn it off. It's made of a silky silicone, but with the motors inside, boiling or dishwashing doesn't seem like an option, so sterilizing it for shared use could be a problem (though could use saran wrap or dental dam as barrier between toy and you). It says it's waterproof and can be used in tub, but I'm dubious since the seal on the battery compartment isn't the best I've seen. I removed that piece to dry the toy thoroughly after washing.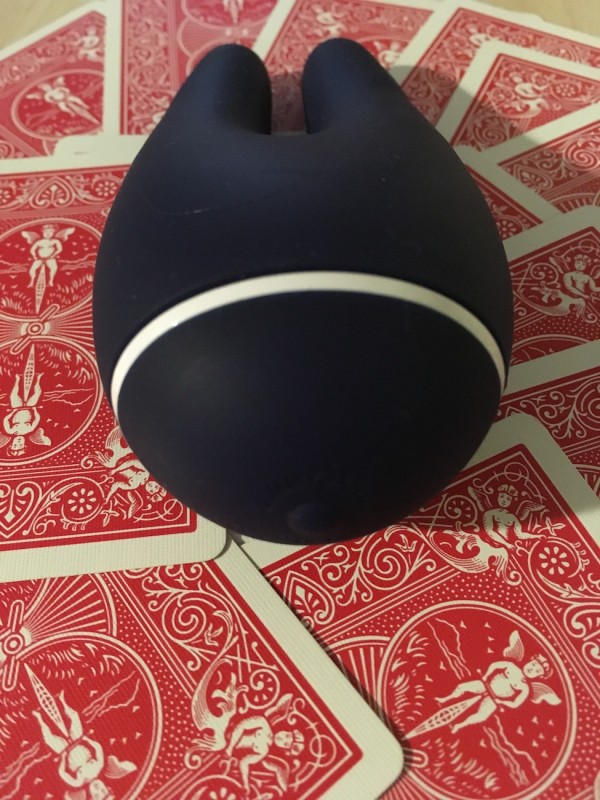 User Experience:
Since I'm generally not a fan of direct, intense, clitoral head stimulation, I was most intrigued by the idea that I could run the 'ears' of the toy down to nestle between my inner and outer labia and disperse the stimulation throughout my clitoral tissue. I have to confess, it feels pretty damn great. Alas, since I tend to wedge my vibrators as hard as I can against my body, I discovered that with anything more than slight pressure against me, the motor began to stutter no matter what setting it was on.
Surrounding the head of my clit with vibrations from either side was a new and outstanding sensation, and I spent far more time than I ever have with a clitoral vibe paying direct attention to the head. Squeezing my clit between the two motors definitely got me the closest I've ever come to having an orgasm like that, and perhaps in the right scenario, it would get me off. As it was, it felt really, really good. Squeezing my nipples between the vibrating prongs of the Intro 2 felt similarly outstanding.
It was very effective used at a variety of angles and I discovered that using both 'ears' tip down on the left side of my pussy, where I have far more sensitivity, led to a lot of happy squirming. It paired nicely with a dildo and was not so cumbersome that I couldn't manage both toys at once. I have fairly small hands and the Intro 2 was easy for me to hold and control, though I did accidentally change the setting on more than one occasion while moving position.
I have been assured by Dawn that the Intro 2 is also great for partnered sex, but I don't tend have the patience to try to hold something in place while I'm being fucked, and didn't get the opportunity to try it, so I will have to take her word for it. It worked well lying on my back as well as on my stomach, though, so it seems very feasible that it would be versatile in positioning if you wanted a cock in your pussy (or ass, or both, for that matter) at same time.
Quality
4/5
Sensation
4/5
Versatility
4/5
Please note: I paid for this toy out of pocket and received nothing from Jimmyjane in exchange for this review.
You can support On The Wet Coast by buying the Intro 2 --or other great toys--at SheVibe.com