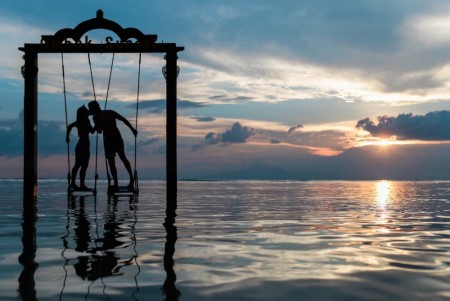 There are probably a pile of things I should write about between my first post and this one, but this is most recent, and most exciting, so I'm just going to head out of the gate with a post about our first swinger date this past weekend.
I decided to flirt with a cute local couple on a Swinger dating site after looking at profiles for weeks and never acting on them. Crazily enough, I heard back immediately with a reciprocal flirt and an invitation to look at their private (extremely HOT!) photos. We chatted back and forth until we set up a date for the following evening to meet for drinks and see where things went from there.
I was so nervous all the next day. Were they going to like us? Was my undercarriage grooming up to par? Was my undercarriage itself up to par? We should totally cancel. What was I thinking? But eventually we were on our way to their neighbourhood so we could go back to their place if all went well during our drinks meeting at the restaurant. (I went for sexy secretary look in a pencil skirt in which my ass looks bangin' if I do say so myself, and a top that draped nicely to show off my rack)
We hit it off pretty quickly and I was relieved. Even if we didn't hook up it was going to be a fun evening and we easily chatted about various things in our lives, relationships, and our experiences (or lack of in our case) in the lifestyle. We realized that we recognized them from events at the local swingers club we've been to a few times.
They'd been a couple for about a year, and she'd been in the lifestyle when they met. He hadn't been sure about the whole thing but after a crazy hotel takeover weekend in Vegas, he was sold. It all felt really comfortable and easy so after a few drinks we headed to their place just a few blocks away.
We ended up playing a silly strip card game and soon enough I was sitting completely naked in the dining room of complete strangers and it was kinda weirding me out. If we'd been doing sexual things, it would have been fine, but I was just there. Nude. It was really odd. (I'm kind of a 'never nude'. I'm getting better but I often don't like to be naked even when completely alone. I've got a running gag with a friend about how I wear jean shorts in the shower.)
Eventually the game got a little sexier and we all started having to do little dares that got more and more intimate - a little lap dance here, a little inner thigh kissing there. A lot of them involved people going down on me and I really liked that. I kept joking that all the tasks should be 'do shit to Kat' because having three different mouths on you in very short order is one of the best things ever. Until there's maybe four or five or... mmm, happy place.
Things progressed into the bedroom and we all rolled around and kissed and sucked and licked and it was really awesome. I hadn't been sure if we'd just pair off with the other couple or how it would work but there was a lot of mixing and matching and it was delightful. There were often bodies on either side of me and on top of me and I just loved being surrounded by all that amazing naked, writhing flesh.
All good things must come to an end, though, and after discovering it was nearly 3am, we had to bow out and head home while I could still operate a motor vehicle.
We exchanged a few flirty texts - ha! flirty = "We're really horny to fuck you two" - after but haven't heard back from them after my texts trying to set up the next date they'd appeared eager to schedule. So we'll see.
But it was a great night. A lot of fun. And it took the edge off the fear of the unknown. And answered the question "Who'd want to fuck us?" because there are at least two people out there who put their hands up, which helps to suggest that there are more out there. I just need to find them.
Now, who should I flirt with next?