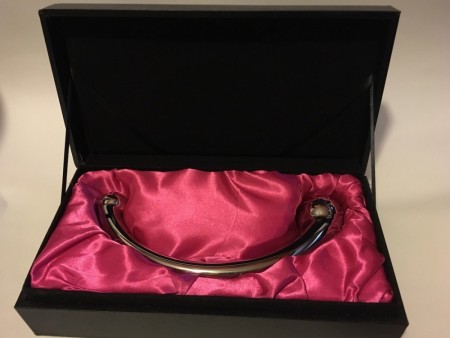 You know you're in for something special just looking at the packaging for the njoy Pure Wand. The smooth black box with silver writing tells you it's something precious and when you open it up to find the curved metal wand nestled in pink satin it suggests decadent pleasure. Can you tell I'm a fan?
The pure wand is the first toy to ever give me a g-spot orgasm, the first anything to give me a g-spot orgasm, and I squirted for the first time within about 5 minutes of using the toy on my trial run. It was completely unexpected and I was not prepared with the necessary towels, so my first time ended with a less-than-ideal frantic changing of linens.
It's a toy I recommend to almost anyone who is wanting to discover g-spot orgasms themselves, with the caveat to be prepared for potential wetness. The cold weight is intimidating at first but the smooth curve is so inviting. You can run it under warm water first but I find the cold sensation kind of fun and it warms to body temperature very quickly.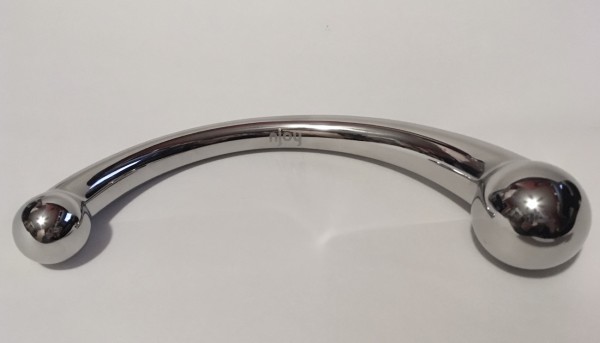 The small end is definitely small, though that is what got me off the first time. It is very well suited to anal play and the curve does great things for those who have prostates and enjoy that pressure. Using the small end anally is also the only thing that has caused me to squirt with butt stim so it's a pretty great anal toy for those without prostates too.
All that said, the bigger end in my pussy is where my favourite Pure Wand experiences lie. The heavy pressure and curve hit my g-spot perfectly and the weight of it feels really great against my cervix when I thrust aggressively. Not every cervix likes that sensation but mine loves it so I can have a lot of poundy fun with the Pure Wand.
I particularly love using the Pure Wand with a silicone lube like Überlube or Sliquid Silver for that extra slickness. Squirting washes away water-based lubes very quickly for me so the silicone lasts longer, and I tend to prefer it when I know I'm going to be ejaculating a lot.
It is super-fun to use on myself but also a great toy to use on others, the length of the wand giving you a decent amount to grip as you thrust.
Drawbacks are that due to the shape, condoming it up for shared use can be a bit awkward. Being metal, it's highly sterilizable by boiling or running through dishwasher so we often do that instead of condoms unless we know more than one person wants to use it that night. Being stainless steel, it's also super-slippery once it's lubed up. We find a dry nitrile glove helps that problem but I tend to pick an end and go with that rather than switching and trying to grab lubed up metal.
I love this item and consider it to be an essential part of my toybox.
Quality
5/5
Sensation
5/5
Versatility
5/5
I paid for this item myself and received no financial reward for my review. If you happen to want to support On The Wet Coast by shopping at Come As You Are you can buy this item here: http://www.comeasyouare.com/product/Njoy-Pure-Wand-Steel-Dildo/?Affiliate=onthewetcoast