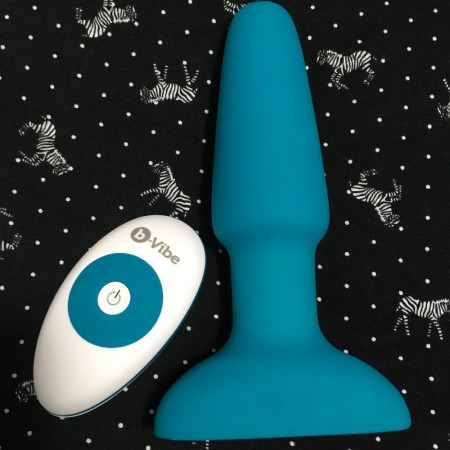 I have been lusting after the Rimming Plug by b-Vibe for a couple years and was super excited to finally get my hands on the new model when they released it. I'd been warned that it was big, and those warnings weren't wrong. This ain't your average plug.
At the widest section of the plug, it's probably the size of an average(+) penis. As I am not adept at taking penises in my butt, I was pretty intimidated by this toy. I was so intimidated that I used it vaginally the first time I played with it, and it worked damn well for me. The rotating beads were awesome on my g-spot and when I got them rotating exactly the right way: sploosh!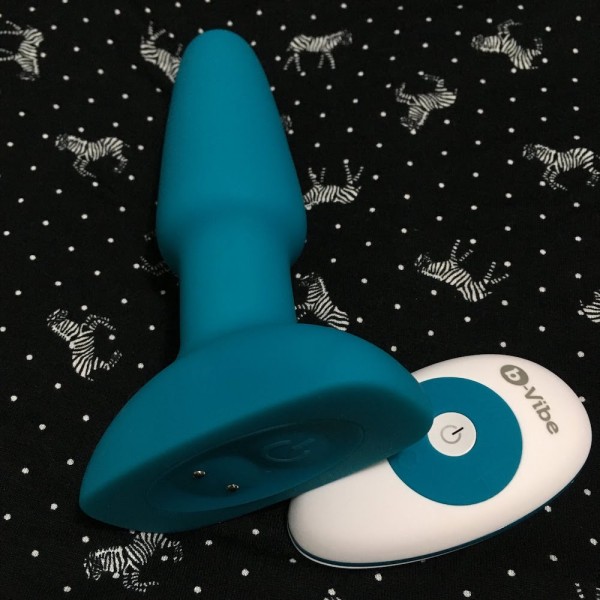 Before I go into my experience using the Rimming Plug 2 for its intended purpose, I'll talk about the specifics of the toy itself. It's a high quality silicone, like all the b-vibe plugs I've used, with a velvety texture that's extremely pleasant to the touch. It's non-porous and splash-proof, so it can be washed easily (although the crevices at the bottom are a little prone to collecting lube).
It comes in a storage case with an effective remote (not the case with all toys) and a usb charger that attaches magnetically. Included in the case was a pamphlet on anal safety and I was really impressed at the detail and depth they went into with the booklet: explaining anal anatomy, types of things that are anal safe, focusing on going slowly and never pressuring anyone into anal they're not interested in/ready for. Their outer packaging also impressed me with representation of queer couples with varying skin tones in the photos. The emphasis on couples might alienate some who'd want the toy for solo play, but it was refreshing to see people other than lily white hetero couples.
The toy includes a powerful rumbly motor at the tip (6 vibration patterns and 6 intensity levels) as well as rotating metal beads in the neck of the toy (7 rotation patterns and 6 intensity levels). The packaging claim of 'whisper quiet' isn't entirely accurate due to the powerful motors but I'd take sound over a weak buzz anytime. Plus, once something is in your butt, it tends to muffle a whole lot of sound.
It IS big! I had to do extensive warm up and the plug was still a bit of a challenge for me. It's not the largest thing I've had in my ass but it's up there (Heh. Up there). The rimming neck is thick and you really feel open the entire time, unlike with some plugs. The rotating beads feel really good, though. Not entirely like a tongue but with a deliciously relentless consistency.
The patterns are more useful than most vibes (where they're just annoying). When I found the right combo of vibe and rotation, the sensations became extraordinary. Trouble is, with so many options and exploratory button clicks, I might not find that exact setting again.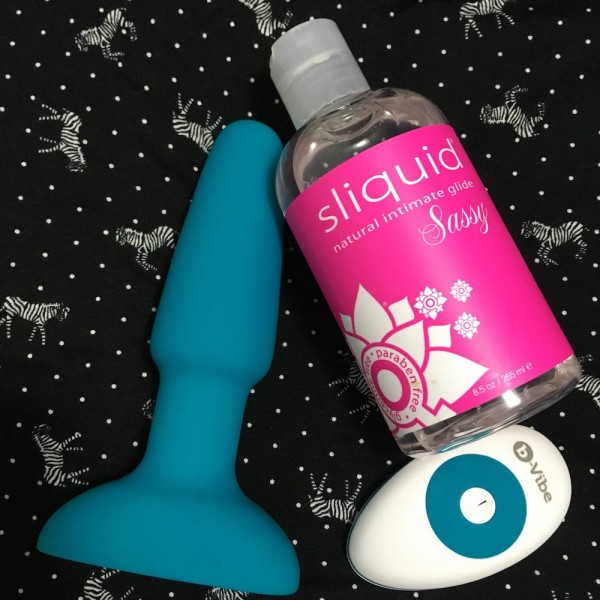 The Rimming Plug 2 is a fantastic toy but it might not be the right ass toy for me. I'll probably default back to my Goldilocks the Trio for most anal playtime, but I will definitely use it again when I'm looking for more intensity, or looking to train for future anal adventures.

Quality
5/5
Sensation
5/5
Versatility
3/5 - Would score lower if I didn't like the feel of this toy on my g-spot when used vaginally

Please note: The Rimming Plug 2 was generously provided to me by b-vibe in exchange for my honest review. My notes and opinions are my own. Visit b-vibe's website here