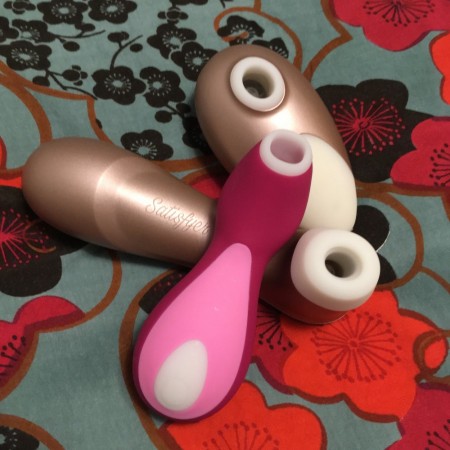 I've been dancing around the Satisfyer models for a long time, intrigued by the idea of something that focuses a suction stim on the head of the clitoris, but not sure if they'd work for me. I'd heard good things from several friends but I wasn't willing to reach out (read: shell out) beyond the tried and true toy styles that definitely get me off. I was lucky enough to receive a box of samples from the good people at Satisfyer and tried out three models: The Pro 2, the Pro Penguin, and the Pro Deluxe.
I will state from the outset that external clitoral stimulation does not tend to get me off. If I want an external clit orgasm I need to use my Magic Wand for 15-60 minutes to rumble it into submission. I am probably not the best person to be testing out a clitoral suction toy due to the way my junk operates, but I was really hopeful that a rhythmic suction that wasn't dependent on someone's tongue or fingers getting tired might surprise me. I sometimes have squirting orgasms from oral sex or rubbing the legs of my clit externally so I was hopeful that this style of toy would do the trick.
Unfortunately, although they all felt really pleasurable, I only had one orgasm while using them on 3 separate occasions. That happened while masturbating with my partner Flick and I saw him come. I will often have spontaneous orgasms in response to seeing/hearing a partner come so there's a chance it was related to that rather than the sensations on my clit. When I tried the toys alone, both in the bath and not, they felt really good, but not orgasm good. That said, I think they're great toys and if your body is really responsive to suction on your clit, any of the three could work really well for you.
Oooh, and they also feel really good on nipples. Just sayin'.
I'll discuss the general qualities of the three models then break them down individually least to most favourite.
One of the best features are their removable silicone rings which can be easily disinfected so the toys can be shared. I am such a fan of sharing the toys I love and something that depends on suction can't really work with condoms or saran wrap barriers, so being able to sterilize the ring between partners is a huge plus in my book. The batteries are rechargeable through magnetic dots, similar to those used on FunFactory and b-Vibe toys, so the chargers are easy and could be used for multiple toys. They're also waterproof so for those of you who enjoy your solo time in the bath, they can be fully submerged, but it's a good idea to dry them thoroughly. I found them to be fairly quiet, but remember I'm a Magic Wand gal, so my metrics are skewed.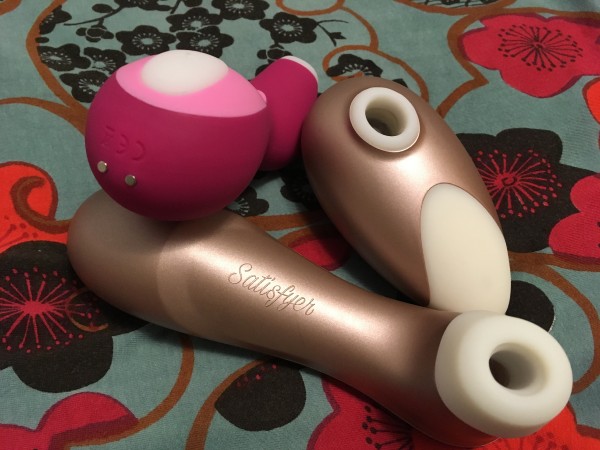 The Satisfyer Pro 2 was my least favourite due to the shape of the silicone ring. The silicone was too thick and opening was too small so it wasn't able to grip my particular anatomy in a way that worked well for me. The shape of the handle was good to hang onto and I liked that it had 11 options for levels, and if I pressed it really hard against me, it would vibe my pubic bone in a pleasant way. I tried it in the bath, even though I don't ever wank in the tub, and I found the water muffled the sensation, but I've heard reports of much ecstatic pleasure from others in the tub so your mileage may vary.
The Satisfyer Pro Penguin is adorably cute! I love the pink colour and the soft silicone covering feels good in the hand. The wide opening fit over my hooded clit much better and this was the toy I had the orgasm with the first time I tried it. It is really light and small and could be tucked away very conveniently in nightstand or carry on. It has decent amounts of power but I found beyond the first three settings, it was hard to tell if anything was changing.
The Satisfyer Pro Deluxe was my favourite of the three since it has a wide clit opening and it fit really nicely in the palm of my hand. I was able to wedge it hard against myself in a way reminiscent of what I do with my wand and get some rumble through my pubic bone. I'm willing to experiment more with it because it did feel really good.
Final thoughts
Well designed toys that do something unlike every other toy I own (and don't have the terrible name of the first of these style of toys). They aren't necessarily the best for my specific anatomy but would be excellent options for people who get off primarily from external clit stimulation.
Quality
4/5
Sensation
3/5
Versatility
3.5/5
Please note: The Pro 2, Pro Penguin, and Pro Deluxe were generously provided to me by Satisfyer in exchange for my honest review. My notes and opinions are my own. Visit Satisfyer's website here